In early September Alisa and I participated in an Olympic length Trithlon at Cultus Lake.  Yup – we did that.
Back in March when I completed my sprint length tri at UBC Alisa was already gearing up for her first sprint in the North Shore race.  After my race I was a little uncertain about wanting to go full on for a full tri as there was a lot of training involved just to get me ready for a sprint.  I couldn't imagine how much training would be needed to get my ready to double the sprint distance and survive (that last part is important to me).
Alisa though was convinced that we had to do a full tri, and that we had to do it together.  I remained unconvinced but in the end caved in because I just like to make her happy.
The first week of September came and neither of us felt very confident.  Alisa was concerned about the swim, particularly because it was an open water swim (not in a pool) and we were planning on wearing wet suits for the first time.  I was mostly concerned about the run.  My swim was strong enough and the bike was just a haul but possible.  The run however had challenged me the week before when I tried running 10km.  My feet have a problem where they send stabbing pain up my foot into my leg which makes running past 6 or 7 km a bit hard.  I can grin and bear it but maybe not after 40km of pushing my feet around in circles on a bike.
We were lucky enough to be able to borrow a cabin on the lake for the night so we didn't have to worry about kids in the morning.  So after a too-brief sleep we headed out for the course.  We hadn't really given it much mental preparation because the week before was filled with the first week back to school for our kids and planning/executing Cohen's 4th birthday party the day before the race.  We figured we could look at the route map and just wing it – it is supposed to be fun, right?
The water wasn't nearly as cold as I had feared it would be, but I was glad for the wetsuit.  My swim time was fairly good but the swim was a bit frustrating.  All the athletes start at the same time so the first few hundred meters reminded me a salmon spawning – flurries of other people's feet and hands knocking you about if you tried to stand still or swim at all.  Once everyone got spaced out it was much nicer – a calm morning meant no waves and the lake felt really nice.  I probably didn't hit my swimming groove until the second lap (after 750 m or so) due to leaking goggles and the spawning, but I hit it eventually and felt good.
I climbed out of the lake and sauntered up to transition.  I took my time (6:34 minutes in transition!) because I knew there was a long grind ahead.  I saw Alisa come out of the water and hit transition, made sure she was smiling, and then hit the road.
The first bit of the bike course is uphill and it felt good to get into the cold air.  I was cruising along and knew the course fairly well, but it was on a road with traffic which I never really enjoy.  As I came up to a traffic light that I knew I was supposed to turn left at I looked ahead just as a big trailer blocked my view of the intersection.  I saw a flags person there but just standing stopping traffic.  I glanced right and saw two other volunteers gesturing wildly at me, one calling me to turn right.  "Oh OK, I guess they switched the course a bit or I mis-read it."  A few hundred meters later I came across that trailer again on a bridge that had a stop sign on the other side and no room to pass.  I spent about 1 minute waiting to get to the stop sign thinking that this was odd for a race.  However there were other cyclists up ahead.  I continued on until I came to another light and the volunteer there seemed ready to talk.  I stopped and asked which way to go.  He asked me what race I was in.  Sorry what?  There's more than 1 race?  I'm in the triathlon.  Nope, wrong way, go back.  The cyclist behind me heaved a sigh and we u-turned and headed back.  How far did I go?  At the time I didn't know.  Look at the map – see that right side?  The blue arrow points to where I turned around.  After the race we measured that as just about 2.4km extra distance for me that day.  That calculates to about 9 or 10 minutes extra on my bike time.  Awesome – next time I'll watch our for those evil trailers and volunteers in adjacent events.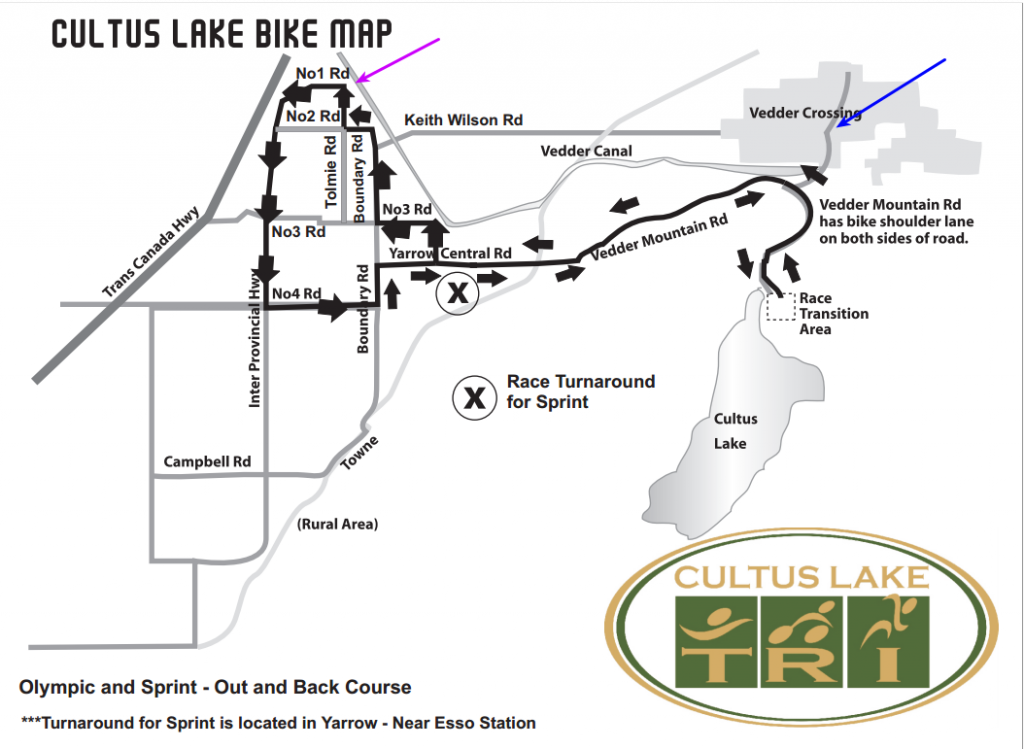 It was my fault I suppose, and the rest of the bike course went well enough.  It was very lonely though, which is to say I only saw 3 other cyclists passing me the entire time and I only passed 2 others.  I saw one fellow twice though as he got lost and ended up looping around me.  I wasn't the only one going the wrong way.  At the time I found that amusing.  It also had me ponder volunteering next year to help other first-timers.
So the bike finishes up and I switch gears to the run (ooh, pun!).  I thought Alisa would have passed me on the bike ride as she's faster than I am, but I hadn't seen her.  I figured she was right behind me at the start of the bike leg and must have gone left when I went right – good for her.  I didn't think she would handle going the wrong way very well so I was happy thinking she had avoided my mistake.
The run was advertised as running around the lake, twice for Olympic distance.  Not quite – you run for about 1/3 of the course on the beach.  And running on loose sand was scary – my legs were tired!  I took one break at the porta-potty my first lap around figuring there was no need to feel even more discomfort than I needed to.  Partway through my run I passed Dave Marsden going the other way (he later officially passed me and finished strong – congrats Dave!).  I also saw Alisa running the other way, which meant she was in front of me.  That made sense due to the bike mix up and she looked like she was having fun.  Strong woman, nuff said.
The run was hard.  My body was exhausted and I knew I was turning into one of the last athletes on the course.  My feet started to go a little numb which was good as it helped postpone the pain.  Eventually the pain started to bleed through though.  Near the end I was passing the water station and called out asking for water but that I couldn't stop for it.  My legs really were on auto pilot and could not change their cadence.  I wasn't fooling around either – as I reached out for the water I intended to slow down to avoid spillage but my legs wouldn't slow down.  They were locked into a pace I could not change if I tried.
Eventually I finished my first lap and neared the finish line.  The first lap was a bit odd as I was running towards the finish line with people who were finishing.  The crowds were cheering everyone on saying push it, last little bit.  I was ignoring them though and it felt rude.  Right before the finish line I veered off to my second lap when most people thought I was finishing.  Nobody else veered.  I really was going to close this course 🙂
I did finally finish though, totally and utterly exhausted.  Alisa was there cheering me on along with our friends Jonathon and Tara who had raced in the sprint that morning.  The loud speaker called everyone's attention to me as one of the final racers and to cheer me in.  The small crowd that was left complied and I raised my hands in triumph as I finished that puppy off.  I glanced at the tracking chip board on the other side of the line and counted – only 3 chips missing after mine meaning I was the 4th last athlete to finish.
But what were my goals?  Let's see …
1 – Realistic goal: finish in under 4 hours.  Total time including slow transitions and an extra 2.4km biking was 3 hours 32 minutes.  Check!
2 – Stretch goal: finish under 4 hours without walking.  Not counting the potty stop (which I don't) then Check!
Male 35-39
Total Time: 3:32:35 (19/20)
Swim: 30:23 (10/20)
Bike: 1:37 (18/20)
Run: 1:15 (19/20)
As you can see from my times my swim was actually quite good.  Those wetsuits make you glide through the water like seals, but it still feels good to have a strong leg.  That and everyone else had one on too (other than this one guy who ended up with involuntary shivering while waiting for the race to start).
Technically I could take 9 or 10 minutes off my time since I did more distance than needed.  But that's just picky.  It also doesn't help my overall standing – yes I checked 🙂
Now on to Alisa's awesomeness.
She had a strong swim and hit the bike right after me.  However she too ended up getting lost.  In fact she took a wrong turn at the purple arrow on the race course above and proceeded to ride.  And ride.  And ride.  She followed other cyclists thinking they were in the race too.  Well they were, but not in her race.  So when she came across their finish line near a school she figured things out and turned around, heading back to the sprint turnaround location.  There she asked for help from a volunteer.  He was not helpful.  He spent 5 minutes (literally, Alisa timed it) scolding her about how she should have known the route, that if she was mis-directed by a volunteer it was her own fault, yadda yadda yadda.  OK pal, lay off the heat and just tell her what to do.  He said he could only suggest heading back to transition and starting the run.  Alisa was in tears at this point and was frustrated that she might not have done the right distance.  But what other options did she have?  Neither of us wore a GPS to let us know what distance we had gone.  Yes we had one, I forgot to put it on.
So Alisa heads back to the transition area, hits the run, and kicks its butt.  She was still frustrated though as she might not be able to claim having actually done the full distance.  Grr.
So after the race we retraced her path on the way home and checked with the car's odometer.  As luck would have it she had actually biked the exact race distance of the real course.  Serendipity, karma, or something – but awesome!
How did she do?  Really, really well.  See for yourself:
Female 35-39
Total Time: 3:00:56 (9/13)
Swim: 33:55 (11/13)
Bike: 1:22 (10/13)
Run: 56:33 (8/13)
So that's the story of our awesomeness.  Will I do it again?  I'm not so sure.  It was a lot of training.  And it was hard to have both of us training so much at the same time.  I might do some sprints to keep me pushing myself towards some goal.  I'm not convinced about the Olympic distance though.
Just to give me a sense of how much training was actually involved, I have compiled some interesting stats from my training records:
Kirk's Sprint mileage (Sept 20 – March 4, 2012)
Biking: 279 km or 1201 mins
Running: 150 km or 1107 mins
Swimming: 17.65 km or 430 mins
Kirk's Olympic mileage (March 21 – Sept 2, 2012)
Biking: 512 km or 1340 mins
Running: 170 km or 1181 mins
Swimming: 5.7 km or 84 mins
Kirk's Total Training Stats
Biking: 791 km or 2541 mins (~42.5 hours)
Running: 320 km or 2280 mins (~38 hours)
Swimming: 23.35 km or 514 min (~8.5 hours)
Wow.  Since I decided to attempt this back in Sept 2011, so over the period of 1 year, I spent at least 90 hours training.  That doesn't sound as high as I thought it would.  Nuts, that means I should do more.  Sigh.
But as I said to Jonathan and anyone else asking, I don't particularly enjoy the race itself.  The nerves, the stress – I don't crave the adrenaline like that.  But I do really, really enjoy the training.  Particularly this summer.  The weather has been fabulous and it has been a great gift to be allowed to head out every other day to run or bike for an hour or two.  I enjoy the training.
So what now?  Hey, I'm still trying to figure that out.  Getting out for a run or three every week lets me ponder that 🙂
Alisa?  Yeah, she went and ran a half-marathon 3 weeks after her first tri.  She'll be fine, yes she will.  And if you read this far you deserve a medal – something those miserly tri organizers refuse to provide participants.  Maybe that will be my next goal – find a tri that gives participants medals like those half-marathon people do and train towards that race.
Overall this is something I have wanted to "do" since I saw my brother Paul run his first at Crescent Beach when I was 15.  So now it is done and I can also officially say I'm a "runner".  Check those two things off the list and get out of my way – this summer sun isn't going to last forever and there are sun-warmed ripe berries out there somewhere waiting for me to run up, stop, and savour them.  That's my kind of training.